AbilityPharma has investigated the antiproliferative activity in a series of compounds, in
in vitro
models with several tumor cell lines. The mechanism causing the antiproliferative effect has also been characterized in several candidates.
ABTL0812, the most advanced asset, has finished with very positive results a phase 2a clinical trial as first-line therapy in endometrial cancer and in squamous NSCLC in combination with paclitaxel and carboplatin. The study included leading institutions in Spain and France (Vall d'Hebron Institut d'Oncologia – VHIO, Institut Gustave Roussy, Centre Léon Bérard).
Currently, AbilityPharma is conducting an international multicenter, double-blind, placebo-controlled phase 2b clinical trial in pancreatic cancer to investigate ABTL0812 in combination with FOLFIRINOX chemotherapy. The study includes reference centers in Spain, France, United States and Israel.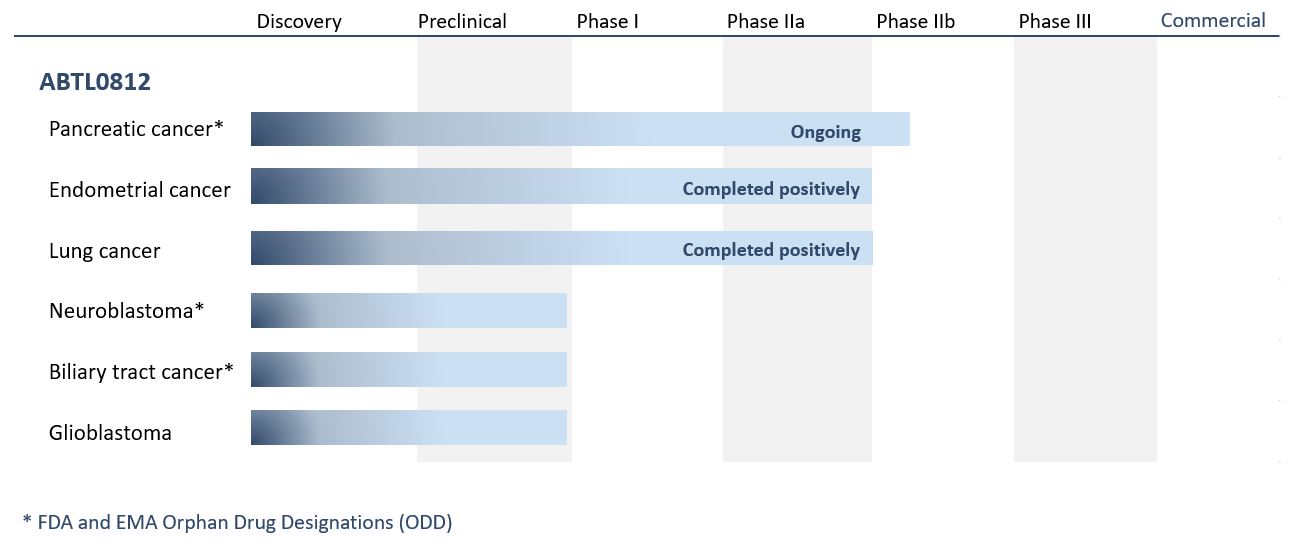 LATEST NEWS
02.06.2023
Press Release
Ability Pharmaceuticals announces the presentation of the phase 2a results of ABTL0812 as first-line therapy in patients with lung cancer at the ASCO 2023 Annual Meeting in Chicago
+ info
14.12.2022
Press Release
AbilityPharma Achieves the 30% of the Estimated Recruitment for their Phase 2b Clinical Trial with ABTL0812 + FOLFIRINOX as a First-Line Therapy Treatment in Advanced Pancreatic Cancer
+ info
21.11.2022
Press Release
AbilityPharma Obtains 1,5M € of Non-Dilutive Funding from Next Generation EU Funds to Further Study the Anticancer Immunomodulatory Effects of ABTL0812
+ info
10.11.2022
Press Release
AbilityPharma will attend LSX investical showcase in London to meet with key investors and venture capital firms
+ info
02.11.2022
Press Release
ABTL0812 shows potential against glioblastoma brain tumors
+ info
07.10.2022
Press Release
AbilityPharma Secures 2,2M € of Non-Dilutive Funding from the Ministry of Science & Innovation of the Government of Spain to Accelerate the Clinical Development and Regulatory Path of ABTL0812
+ info
07.09.2022
Press Release
Carles Domènech, Executive Chairman & CEO of AbilityPharma, Will Attend ESMO Congress in Paris for a Meeting with some of the most Relevant Key Opinion Leaders (KOLs) in the Treatment of Pancreatic Cancer
+ info
29.06.2022
Press Release
AbilityPharma Will Attend ESMO World Congress on Gastrointestinal Cancer 2022 in Barcelona
+ info
13.06.2022
Press Release
AbilityPharma Will Attend the ESMO Gynaecological Cancers Congress 2022 in Valencia
+ info